Online Booking For Exams 24/7!
Welcome to Animal Medical Clinic - Wheaton
Animal Medical Clinic of Wheaton is a full-service companion animal hospital, serving the pets of the Wheaton area. It is the commitment of our veterinarians and skilled staff to provide the highest quality of veterinary care throughout the life of your pet. Here at Animal Medical Clinic of Wheaton, our entire health care team is dedicated to providing personal attention to the unique concerns of you and your companion. As an example of that commitment, we have maintained certification by the American Animal Hospital Association for 25 years. Less than 10% of all animal hospitals in the country receive this prestigious accreditation, and we are the only AAHA accredited clinic in the Wheaton area.
Our Pet Annual Wellness Plans (PAW Plans) provide you with proactive care for your dog or cat at a discounted price, with easy monthly payments. Visit our Annual Wellness Plans page to find out how signing up for a dog or cat wellness plan, can help keep your furry family member healthy and thriving.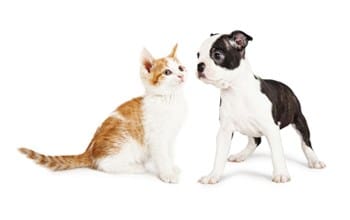 Happy, Healthy Pets
We are proud to be an AAHA accredited veterinary hospital. What does this mean to you? It means that you can trust that we hold ourselves to a higher standard, and that our passion for animals motivates us to provide the highest quality of veterinary care. Your pets are our number one priority and we strive to deliver excellent care every time you and your four legged friend need our help!
Aside from our pledge to client care, our facility offers a wide range of services that aid in the treatment of your pet from their younger years into their senior stages of life. Services we offer include spays & neuters, dental cleaning and surgery, microchipping, an on-site pet pharmacy offering heartworm protection and flea-tick control, an in-house laboratory for quick testing results, as well as a drive-thru pharmacy pick-up window.
Stay Connected
Check out our Facebook and Twitter pages to stay up to date on the latest promotions and events each month has to offer. Feel free to browse our site further where you will find information regarding our practice philosophy and further explanation of the services we offer.
We are proud to announce that we now offer Pet Portals to our clients who have provided us with email addresses. This service will allow you to manage your pet's health online. You can now request appointments, prescription refills, verify vaccine status, and upload a photo of your pet into your account. These are just a few of the new offerings available through Pet Portals. Call us with your e-mail address to join today.