Our Veterinarians
When a family member is under the weather or suffering from discomfort, he deserves the attention of a caring, competent physician with the skills to diagnose his ailment and the compassion to treat him with tenderness.
At Animal Medical Clinic-Wheaton, an expert staff of veterinarian doctors and a skilled team of technicians are here to do just that. Under the directorship of our highly skilled veterinary doctors, your pet is always in good hands. We're ready when your pet needs us.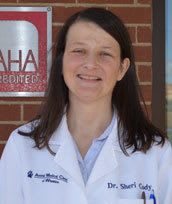 Dr. Sheri Cody, DVM
Sheri Cody graduated from the University of Illinois, College of Veterinary Medicine in 2000. She received a Bachelors in Biology with a Minor in Spanish from the University of Illinois in 1994 and a Masters in Biological Sciences in 1996. She primarily sees dogs and cats but will also see small exotic mammals. Her interests lie in internal medicine and dermatology.
Since she was in 2nd grade, her dream was to become a veterinarian. She grew up in the South Suburbs of Chicago but has been living in Wheaton since 2001. She has 3 cats (Taz, Tika, and Chance) and would love to adopt a dog when the time is right. She has a special place in her heart for "misfit" pets (her first cat Angel, was blind and 3-legged) and Labrador Retrievers.
She is a huge Blackhawks fan and loves to go to the games when she gets a chance. Her hobbies include scrapbooking, reading, and cooking. She also loves spending time with her 3 kids and husband Jim taking walks, going camping, and enjoying life.

Dr. Karen Hendrickson, DVM
Dr. Hendrickson joined AMC Wheaton in 2014.
Dr. Hendrickson grew up in the Schaumburg area and worked as a technician before college and while obtaining her degree. Dr. Hendrickson graduated from the University Of Illinois College Of Veterinary Medicine in 2000.
Since then, she has spent her time practicing in the Schaumburg/Streamwood area. Dr. Hendrickson see's dogs & cats and enjoys both the medical and surgical aspects of their care while also having a strong interest in dentistry.
She has a Husky/Labrador mix named Katie, and a cat named Nancy Jo; both of whom are rescues. Dr. Hendrickson has a special place in her heart for Labrador retrievers and is a crazy Chicago Sports fan (Cubs not Sox!).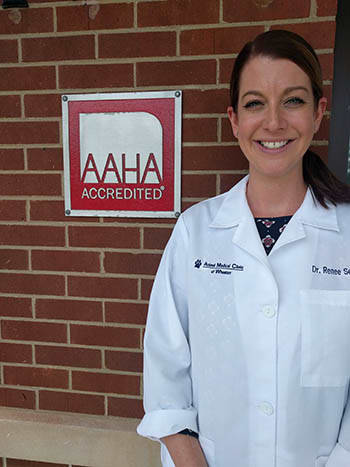 Dr. Renee Seager, DVM
Dr. Renee Seager earned her veterinary degree from the University of Illinois, College of Veterinary Medicine in 2013 after completing her undergraduate studies at Millikin University. Although a native of the northwestern suburbs, upon graduation she spent the next few years practicing in northeastern Wisconsin. She very excited to be moving back to her home town.
Dr. Seager's veterinary interests are in general medicine, soft tissue surgery, ophthalmology and ultrasound. Her love for learning and getting to know clients and patients keeps her engaged in all aspects of veterinary medicine.
Outside of the hospital, Dr. Seager and her husband Matthew share their home with two cats, Winston and Amelia. In her free time, she enjoys long distance running, being outdoors, traveling, playing the cello, and spending time with family and friends.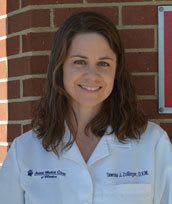 Dr. Tawnia Zollinger, DVM, CVA
Dr. Tawnia Zollinger started at AMC Wheaton in 2007. She did her undergraduate studies in St. Petersburg, FL, and graduated from University of Missouri College of Veterinary Medicine in 2002. Upon graduation she completed an internship in Small Animal Medicine and Surgery in Washington, DC, a Zoo and Exotic Medicine Internship at Oklahoma State University and Tulsa Zoo, and finally a Zoological Medicine Internship at Lincoln Park Zoo in Chicago. Through veterinary school she volunteered at many zoos and aquariums around the country.
At AMC Wheaton she sees dogs, cats, avian and exotic patients and is the head veterinarian for the animals at Cosley Zoo here in Wheaton! Dr. Zollinger is also Certified Veterinary Acupuncturist and is interested in herbal medicine. Dr. Zollinger appreciates a mix of traditional and conventional medicine.
In her spare time Dr. Zollinger is owned by a crazy dog, overly friendly cat, salt water fish, two adventurous young girls and a drummer husband. She also loves to cook, travel, visit beaches, eat at BBQ restaurants, visit wineries and breweries, and make homemade wine.